"Leviathan"
"Behemoth"
"Goliath"
by Scott Westerfeld
illustrated by Keith Thompson
These books are the reason I type here before you suffering from tired eyes and sleep deprivation, and really it was so worth it!
Goodness me, I love Scott Westerfeld! I discovered the Uglies Series in the Crowe High School Library and then moved on to read most of his well known books: the Midnighters Series, the Uglies Series, the subsequent add ons to the Uglies Series, like the manga for Shay's Story! (I bought it at Crockett's in the Mall back when I thought they were closing and everything was on sale! Perhaps I'll review that in the near future!), and So Yesterday. (FANTASTIC BOOK!)
I also discovered that Scott Westerfeld is a writer friend of my favourite writer, John Green! MAKES ME LOVE HIM EVEN MORE! :) Seriously, so cool.
So I read "Leviathan" the first of the series, a couple of years ago, but I hadn't keep up with the series as the books came out! And I love it when you get the chance to read a series and all the books are already out! No need to wait in anticipation like the pain of waiting for the new Harry Potter, when I was younger! (although sometimes the wait is fun!)
Now first off all these books are gorgeous, they were published on super thick, lovely paper and are adorned with awesome illustrations from Keith Thompson! And plus it reminds me of a steampunk version of Airborn by Kenneth Oppel!! Love Kenneth Oppel! See my review of his newest book, "This Dark Endeavour" here:
http://beavervalleylibrarykids.blogspot.ca/2012/07/library-book-review-this-dark-endeavour.html
So I may not be the biggest fan of studying history and stuff like that, but it doesn't mean I can't appreciate it! And I love the premise of this series, it totally reminds me of my favourite videogame "Bioshock" (which you young kids should stay clear of, lest you wish to be sleep deprived and haunted by scary scary zombie-like monsters!! Oh! and its rated M, so definitely stay away!)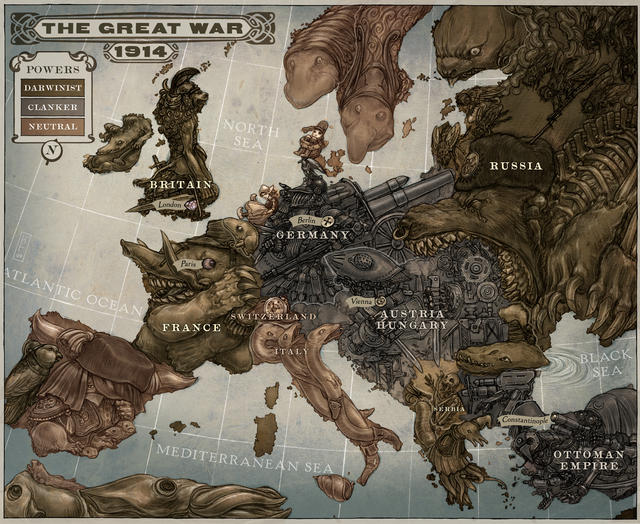 Seriously, how beautiful are the inside pages??!?! Look at this map!
But "Bioshock" is set in the past and creates an alternate reality on past events, which I loved, everything looked snazzy and 50's/60's glam.
And with the Leviathan series, the same sort of alternative reality is made where in the past during and before the WWI, the main super powers of the war are divided by two different sciences. For instance, the Central Powers of the German Empire, Autro-Hungarian Empire are referred to as "Clankers", since here in this rewritten version of history, the Clankers are advanced in mechaniks and robotic-like war machines (very steam punk and AWESOME! ... but wait it gets even better!). And the Entente Powers, of the UK, France and Russia, are called Darwinists, and are super advanced in genetically engineering war monsters, that are seriously the coolest of the cool!
So anyways, the two powers don't get along, obviously, and in this story the Archduke Franz Ferdinand has a son named Aleksandar, and following the events of his father's assassination he and his trusty liege make for an escape to Switzerland.
The other half of our story follows a young and daring Scottish girl named Deryn who wishes to join the Air Force of England, however this is during a time were women don't even have the right to vote, much less join the Air Force! She disguises herself as a girl and soon ends up on board the great airship, the Leviathan!
I mean, this series is epic! I read through Behemoth and Goliath in a week and these are action packed books, that are just so fantastical! Plus, Scott Westerfeld is a genius at dialogue and really creating a world that is truly imaginative and amazing (along with the help of the illustrations, which are very beautiful!). I love the way the characters are developed and how each one has a specific way of talking and thinking, for instance the slang of the English Darwinists ("bumrag!") and the German Clankers ("Dummkopf!").
I don't want to spoil too much of the story for you, but if you like epic adventures, READ THESE BOOKS! :) please!
I mean seriously, read it. now. :D
All these books get a legit 5/5 from me! Let me know what you thought of 'em!